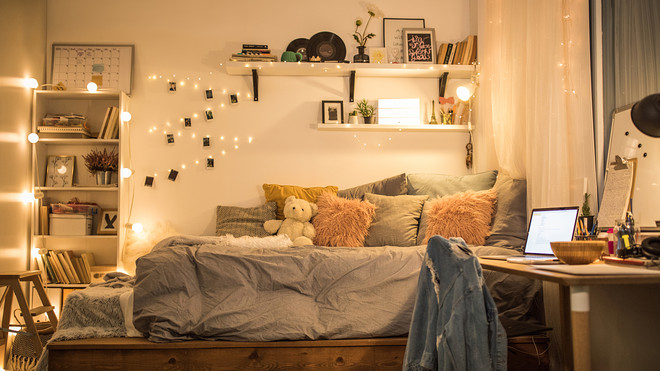 Dorm rooms are, unfortunately, tiny. So, when you move out of your bedroom at home, prepare for some downsizing. Also, keep in mind: you probably will share your new home with a roommate, so divide that already tiny space by two.
When it comes to making a room feel bigger, you already know the hits. "Paint walls white" or "buy furniture in the same color palette". But dorms don't allow such changes. The only trick you have up your sleeve is how you organize your stuff in the available space.
Sure, it'll take some time to figure out the best ways to make the most out of the limited space. That's why you might want to free up some of it to ponder the important questions. The "I'll just have someone rewrite my essay" approach is one way to do so. Or, you could just skip an extracurricular or a class.
Without further ado, here are six ways to make your dorm room feel bigger than it actually is.
Reconsider How Much Stuff You Actually Need
You're guaranteed to overpack in your freshman year if you don't approach packing with a critical spirit. In case you haven't left your home yet, think about:
Weather conditions where your college or university is – to avoid taking clothes you won't have the occasion to wear.
Keep your wardrobe to a minimum – you need your suitcase space to bring a lot of other, more essential things like hair dryers or bedding.
Figure out your overall bare minimum in terms of wardrobe, memorabilia, stationery, etc.
If you're already in your dorm room and realize you own too much, here's what you can do with the things that don't fall under the "absolutely necessary" category.
Send them back to your parents' place.
Donate them to charity.
Sell them on websites like Craigslist and Oodle to make a buck.
Ask around the campus – there could be someone who'd buy some items from you.
Keep the Clutter to a Minimum
These should be the words to live by: get rid of the clutter. Keep the room neat. It's enough to change your perception of the available space in and of itself.
"Neat", in practice, means no stuff thrown onto the floor and left there, a bare minimum of items on the desk, and making your bed.
The rule of thumb is, keep in sight only the things that you use daily. The rest can go into drawers, onto the shelves, or into other storage options. The bottom line is, keep them tucked away and out of sight.
Take Advantage of Smart-Storage Items & Organizers
If you plan to live on a tight budget, shopping for organizers might seem like an easily avoidable expense. Who needs them, anyway?
That couldn't be further from the truth, though. Such organizers will be one of the best investments you'll make during your student life – not just because they're great at making your room feel bigger. They also keep your belongings organized (i.e. easy to find) and increase the available storage space.
Here are just some basic organizers you should consider purchasing:
Decorative/hidden chests and storage boxes (some of them double as poufs).
Over-the-door organizers, including ones for shoes.
Organizing carts.
Use the Space Under the Bed
That's the biggest storage space asset you have in the whole room. But don't rush to just drop your belongings on the floor and sweep them under the bed with your foot. Instead:
Sort your belongings. This space is less accessible than a drawer or chest. So, hide away the things you won't need in the next couple of months. Those could be winter shoes and clothes, for example.
Find storage boxes of the right size. Use a ruler to get the dimensions, then subtract an inch to play it safe.
Consider getting bed risers. If your bed is too low to put any boxes under it, shop for bed risers. They do exactly what their name suggests: they elevate the bed four to five inches up.
Keep the Room Well-Lit
That's one of the oldest life hacks, and it's still popular for a good reason. If you let as much natural light as possible into a room, your mind will trick itself into thinking it's more spacious. So, keep the blinds or curtains open as long as possible.
Bonus tip: To increase the amount of natural light, get a mirror and place it opposite the window for it to reflect the natural light.
Of course, you may be unlucky to have little natural light. If you have a room on the first floor or the window isn't in the east or west, you know what it's like.
In this case, you can still make do with artificial light. Just make sure to have enough sources of it: table lamps and garlands can help with that.
Go For a Minimalistic Design
Apart from the pale color palette and overall tidiness, what does the minimalistic design entail? Few decorations, both on the walls and elsewhere.
Don't get this wrong. You can personalize your new home and still make it feel bigger. Here are just several guidelines for making it work:
Opt for smaller decorations. Yes, some suggest doing the opposite: putting one big wall decoration instead of several smaller ones. But in a dorm room, it'll only highlight how tiny and cramped it is.
Keep decorations to a minimum. Don't fill every inch of the wall with decorations – unless you strive towards maximizing that two-by-four vibe.
Stick to lighter colors. You may love those film posters, but if they're dark, they'll "eat away" the perceived space. Instead of putting them up, find wall decorum that uses a light color palette.