Tech
The Best WooCommerce Plugins That Will Improve Your Store
WooCommerce is a WordPress plugin that allows you to create an online store. It has exploded in popularity in the past few years, together with further adoption of online selling. However, it might not contain all the advanced features you'll need to operate the best shop for your particular business and brand and get the best possible results.
Many useful plugins and extensions may help you improve the operation of your WooCommerce store and boost sales. In this case, WooCommerce plugins and extensions come in handy. Here, we will list the most useful ones.
WooCommerce Table Rate Shipping PRO tackles the delivery and shipping aspects of eCommerce businesses. This sophisticated plugin makes shipping-related issues as straightforward as possible and eases the management of item shipping. It enables you to create and manage complex shipping rules based on weight, item count, and other factors. You may classify items into several shipping classes for a more sophisticated appearance. That way, you can save time when shipping similar products. Managing shipping methods is very straightforward. You may rename them, hide them altogether, or import and export them for a more comprehensive view. Most importantly, with this plugin, you are able to set logged-in user rules that are applied in the purchases of your logged-in customers.
WooCommerce Order Export PRO is another user-friendly plugin with several features that make data collection a breeze. We witness the ever-increasing role data has in businesses, from advertising to product design. Therefore, we should have something to collect that data without taking too much of our time. This tool offers additional features than the standard options of simply exporting a specified data range or data that meets a specific filter. With a single click, you can download your WooCommerce data, drag and drop columns to reorganize them, and export the data in CSV format. Besides that, there are plenty of automation options this plugin includes. You can have reports delivered monthly or weekly, so you will never forget to get your precious data.
3. Direct Checkout for WooCommerce – Skip Cart with Buy Buttons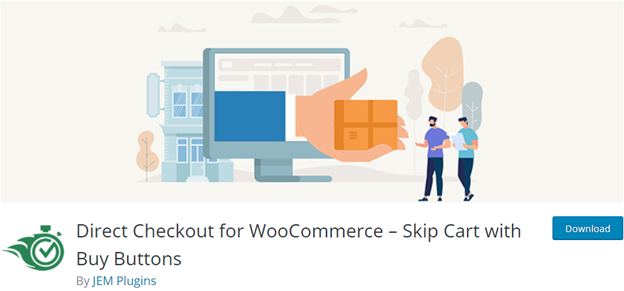 As its name suggests, Direct Checkout for WooCommerce plugin allows your customers to easily and quickly arrive at the checkout page. It is well-known that a typical workflow has four steps to come to the checkout page, but with this plugin, the workflow contains only two steps, excluding viewing the cart and pressing the checkout button on the cart page.
The Buy Button, which you can place anywhere on the site, adds the item to the cart and sends your customer directly to the checkout. Also, you can choose whether your customers will be sent directly to the checkout page for all your products or just for the specific individual products.
Another essential plugin for your site is definitely WP Reset. If you ever encounter any issues with your sites, be it a slowdown, total freeze, or even a corruption of core components of the website, this plugin will help you restore things to working order. It has a few neat features, for example, the snapshot feature, which allows you to restore your WordPress site from a previous, stable state. You can also easily replace broken and corrupted parts of code from the WordPress database and entirely delete any bits of unwanted code plugins might have left.
Conclusion
Operating and managing a WooCommerce store is no small task. So many operations and tasks need to be handled daily and many more that require careful planning. Thankfully, you will save valuable time with plugins like WooCommerce Table Rate Shipping PRO and WooCommerce Order Export PRO. At the same time, Direct checkout is guaranteed to improve your overall user experience and produce returning customers.