SEO
Plugins Every Author Should Include On Their Site
A website is something extremely important for every author and content creator. It is the best way to present your work online, as well as the easiest way for business partners, readers, and other authors to reach you. For this reason, it is very important that your site looks good. To achieve this as quickly and easily as possible, we advise you to use plugins. Below you can find our recommendations for three very useful plugins.
Simple Author Box is a tool that allows you to add a responsive author box to your website. You will use that box to present yourself to the readers. The information contained in the author box includes the author name, description, social media icons, website link, and much more.
The plugin gives you the ability to fully customize everything to your needs. Edit and change the font family, font size, margins, padding, etc., until you get the desired look. If you have a lack of ideas, choosing one of the pre-defined color schemes could be the solution to the problem.
Use a widget to present the best contributors on your blog.
45 high-quality social media icons are at your disposal. There are also many other features.
There is a possibility for your author box to only show up on selected posts. Posts can be assigned to guest authors, one-time contributors, and multiple authors if needed. Premium email support is also included in the offer.
Before launching and during customizing, a website will not look that nice. To solve this problem, you will need to use an under-construction page. It is a page that suggests to visitors what to expect, but at the same time, it hides the actual work being done in the background.
It builds your reputation, serves as a great place for promotion, and can be used for collecting email addresses for an email list. That is why we must mention UnderConstructionPage.
If you have a need to create coming soon, under construction, sales, or landing pages, try this plugin. The package contains 150 pre-created templates that you can edit however you want. By using a simple, user-friendly drag and drop builder, create your page layout.
In the gallery of this tool, you can find over 400,000 high-quality, royalty-free images. You will also be able to upload your own images and add videos.
You can work with maps, contact forms, and countdown timers. There are a few dozen social media icons (Facebook, Instagram, Twitter, and many more).
A list of some more features:
No-setup stats – views, sessions, conversions
Google Analytics events tracking
No-setup leads collecting
MailChimp integration
Whitelisted users
Direct access links
Cache-control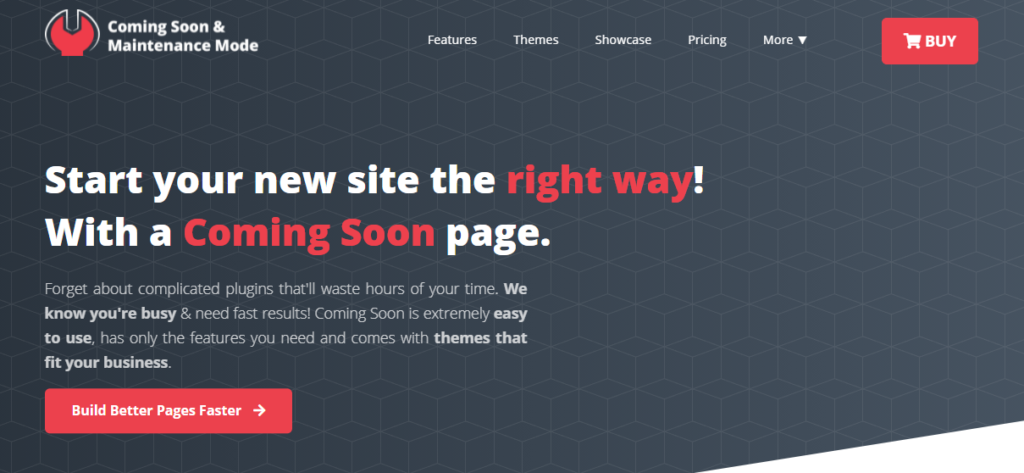 Now we move on to Coming Soon & Maintenance Mode. With Coming Soon & Maintenance Mode, create a coming soon page in just a few minutes. Here you have an offer of 60 fully customizable themes and a simple drag & drop builder. The builder comes with 47 content intro animations.
It supports some of the most famous builders, such as Gutenberg, Elementor, and Divi. There is a number of background editing options. Your background can be static or animated. YouTube videos also can be set as the background (will be played muted and looped).
Any of the 27 Instagram-like filters can be added to 400.000+ free images that are stored in the gallery. Furthermore, there is a 2 Column Content feature, as well as the possibility of creating subscription forms, implementing maps, setting countdown timers, and adding progress bars.
You have full control over SEO-related information, Autoresponder & Emailing Services. If you need help, 24/7 support is available.
Conclusion
In our opinion, these are the three basic plugins that every author should include on their site. What is certain is that they will greatly facilitate your work and, at the same time, improve your site. We hope we have helped you!