Games
fire giants osrs – Details and how to fight them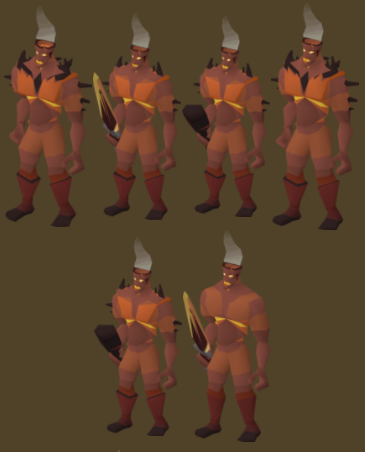 Old School RuneScape (OSRS) is a massive online game in which there are different types of giants, and one of them is fire giants, which are the strongest among the standard giants, which are best for ranged and slayer mode.
Fire giants are the most powerful among their ice and moss relatives.
Types
There are three levels of Fire giants in OSRS
level 86
level 104
level 109.
The 109 level giants use the clubs. That's why they are easy to recognize.
The level 104 are those who use flaming swords.
The max hits of level are as follow:
86=11
104=10
109=13
Location
Fire Giants can be found at multiple locations across OSRS. One of the most iconic locations is the Waterfall Dungeon, in the wilderness and Catacombs of Kourend.
Some details of the fire giants locations are given below:
Safe Spot
There are different spots in the locations where you can be safe from the giants and all of them are given below:
A safe spot available in the Brimhaven Dungeon:
A safe spot in Catacombs of Kourend whitelist and after the giants are aggressive:
A safe spot can be found in the Karuulm Slayer Dungeon:
A safe spot can be found in Stronghold Slayer Cave:
A safe spot in the Isle of Souls Dungeon, after the fire giants, become unaggressive:
A safe spot is in the Smoke Dungeon just outside of where Fareed is:
How to Fight the Fire Giants
To fight the fire giants, you need to be assigned by a Slayer master. Fire giants are commonly picked up for training Ranged and Slayer by Ironman players because they can be accessed quickly, and they have a lot of safe spots and drop a rune called "Scimitar."
A helpful tip for low-level players who are training Ranged on fire giants, they can use enchanted pearl bolts against them. You can use cannons on them in multiple locations, but the catch is they are not in the multi combat areas.
Fire Giants Drops
On fighting the fire giants, you can collect certain drops which can help you in-game
Some of the drops are not worth as much, but many of the new players using ironman accounts kill them to collect ruin scimitar.
Some fire giants have special drops that can be found in specific locations like in the wilderness or the Catacombs of Kourend.
The complete list of Drops can be found below:
Wilderness Slayer tertiary