Fashion
10 Tips For Brides-To-Be To Find Their Perfect Lehenga
Brides and lehengas are incomplete without each other. It's a difficult choice for a bride to choose the best one of all. It is one of the most important attire that remains close to her heart for a lifetime. Choose the best and perfect one for your special day. Be the rich and bold bride by following some tips.
1. Body type
The first thing that you should take care of is your body type. Choose the type of lehenga according to your body shape and your height.
For hourglass, curvy and pear-shaped bodies pick A-line lehenga. This one will give you a perfect and elegant look.
Choose a flared lehenga for round, apple-shaped, and rectangular shape. The flare with several pleats perfectly matches your body and provides you the best bridal look.
You can also go for a mermaid or fishtail lehenga if you are hourglass and Pear-shaped. This will give your body a perfect look and fitting.
Paneled lehengas best suits to inverted and rectangular body shapes. Get a traditional bridal
look by wearing this one on your special day. You can also prefer straight lehengas.
2. Perfect Fabric
After considering your body type the next important point comes is the fabric. Bridal lehengas are available in numerous fabrics like net, silk, georgette, velvet, jacquard, etc. It is difficult to choose the appropriate one.
The first thing for Indian brides is to see the climate. For summers a light fabric like georgette, chiffon, or cotton will be good. Winters are good as any fabric can be worn in winter. You can go for rich and dark velvet, heavy jacquard, or silk. South Indian brides mostly prefer silk as that fabric is considered to be a rich and royal bridal fabric.
Brides of new-age mostly prefer net as they get different patterns in the net. It totally depends on your culture and taste to select the best one.
3. Right Color
The main color of bridal lehenga is red and maroon but nowadays brides tend to choose something different and trending. You can choose a combination of red and golden, or green and golden, a pretty pink, tangy orange, and many more.
The modern brides choose enormous and bold colors for their wedding. Pick the right color that suits your skin tone and your body. Your outfit is going to be the center of attraction at your wedding so choose the color wisely.

4. Design and Pattern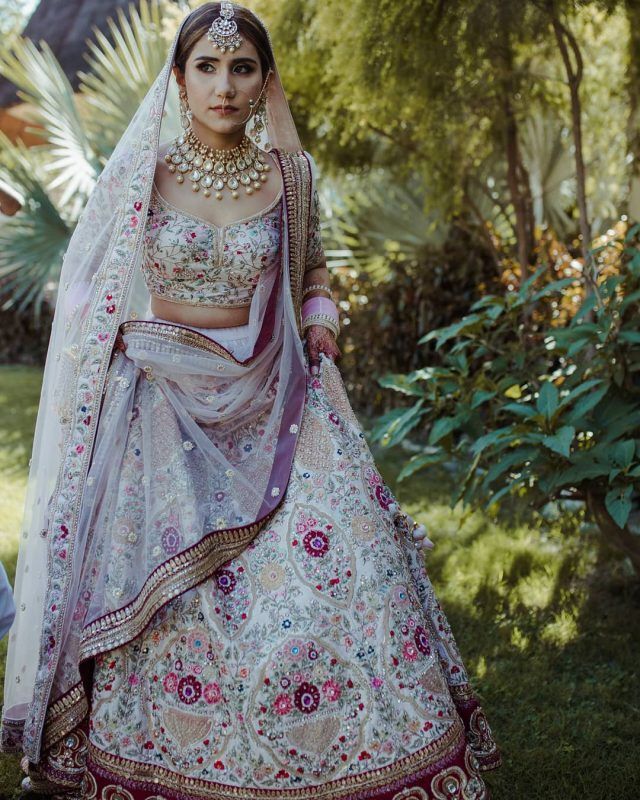 Go for tiny and small designs as a bridal lehenga is detailed well so these designs will be a great choice for a bride.
Choose the skirt with flowers and paisleys pattern along with bold borders. Be smart regarding the pattern of the blouse. It should match your skirt perfectly.
You can also prefer kali and leaf designs. A heavily embroidered lehenga choli with zari and motifs work will also be a nice choice. Studded pearls and stones can make you and your lehenga more attractive and glamorous. Diamond work on choli and sleeves will give you a ravishing look.
5. Length of Sleeves
The look of your choli depends on the length of the sleeves. Select a proper length according to design and pattern. If your lehenga has broad borders then your sleeves should be two-fourth as the sleeves should also contain the whole border of the lehenga so that it totally matches the skirt and you look perfect.
For net lehenga choli, you can pick full sleeves if your lehenga is with a modern touch you can also pair a sleeveless blouse. Get a proper sleeve fitting for a proper look.
6. Draping the dupatta
Drape the dupatta in a traditional style. The most preferred one is the saree style. You can drape it like an open pallu or make thin pleats just to showcase the border of the dupatta.
Double dupatta will be a great choice, drape one dupatta in saree style and place another on the head to get a perfect desi Indian bridal look.
 Mostly girls prefer a double dupatta style. We can see our celebrities choosing this style for weddings in movies as well as in real life.
Simply placing the dupatta on the head and pinning it up at the waist is also a good idea.

7. Hair and Makeup
The hairdo is very important. It should be the best. Most of the brides prefer a bun and it looks best with this traditional attire. You can also try one side braids. Keep it simple, add some roses to your hairstyle.
Be a perfectionist with makeup. Focus on the eyes, apply a nice lipstick that matches with your outfit. Keep the natural glow, don't follow high makeup. Be simple and pretty. Choose a medium-size bindi.
Make sure that the skin tone of your face and neck remains the same or else you will be a perfect one.

8. Beautiful Accessories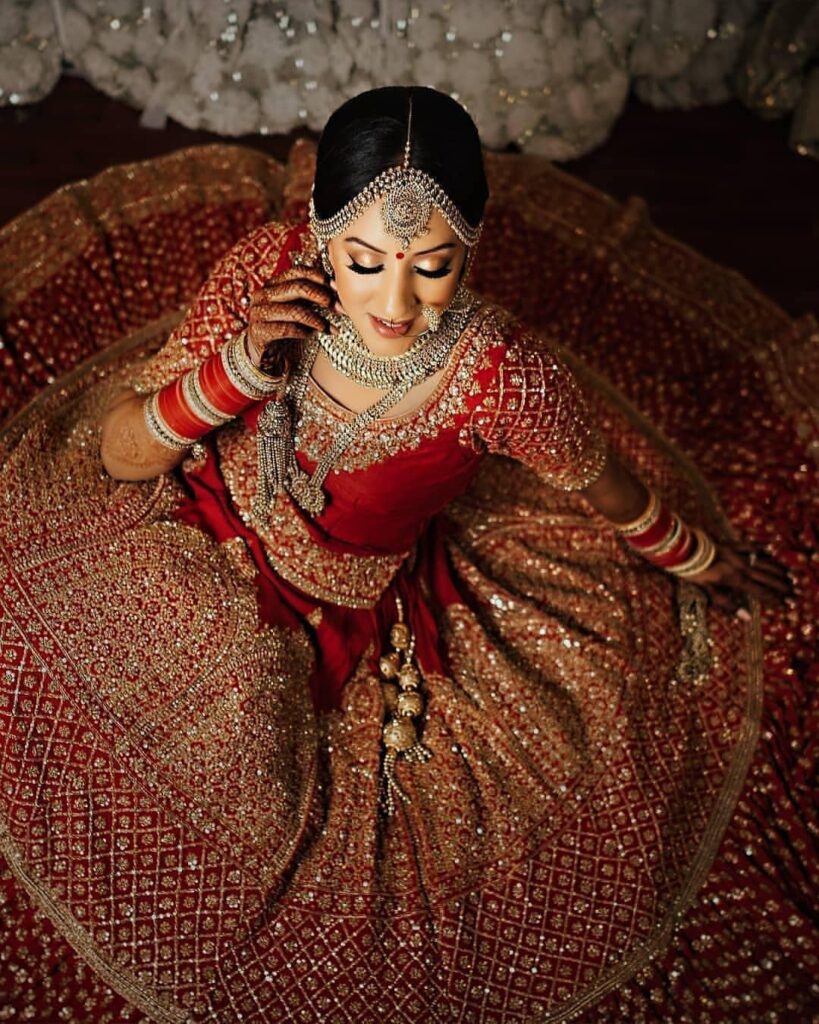 Your accessories should be bold and pretty. Select a full head maangtika so that it will cover your forehead giving it a nice look. Wear beautiful rings and a lot of bangles. Pick a large round nosering that attaches with your earrings.
Match heavy bold earrings with the outfit. Mehendi is a traditional makeup, so apply full hand and leg bridal Mehendi for a perfect Indian bridal look. Wear a heavy choker necklace to give a nice look to the neck and it will properly match with your neckline. You can also wear two necklaces one long and one short that is the chocker. It will also be a nice idea if you are having a simple blouse. Spread your magical look by wearing anklets. Apply matching nail paint.
9. Simple
Keep Everything simple so its just don't look over clothing.
10. Correct Footwear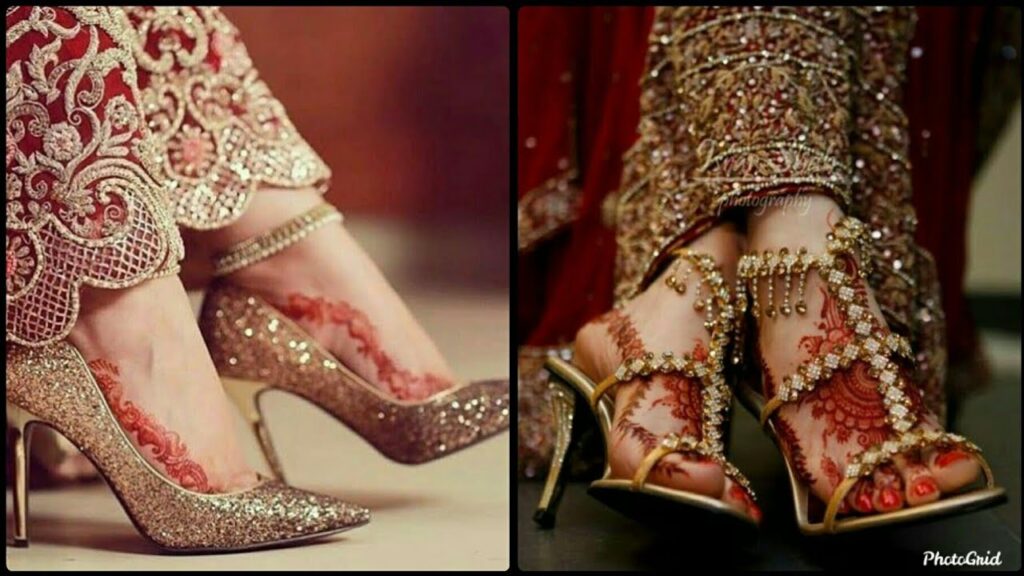 Flaunt your bridal look by wearing heels. Never select flat footwear. Heels will provide lehenga a full flare and round look and you will look pretty and adorable. Wear beautiful diamond-studded golden or silver heels with pretty designs and looks. Let your legs also twinkle as you like you.
Apart from all these things wear a pretty smile and add beauty to your bridal look.
And if you started loving lehenga choli and want to try you can wholesale lehenga online to save your time and money.
Don't Forget to follow us on social media to keep updated with us.
For more articles visit this website