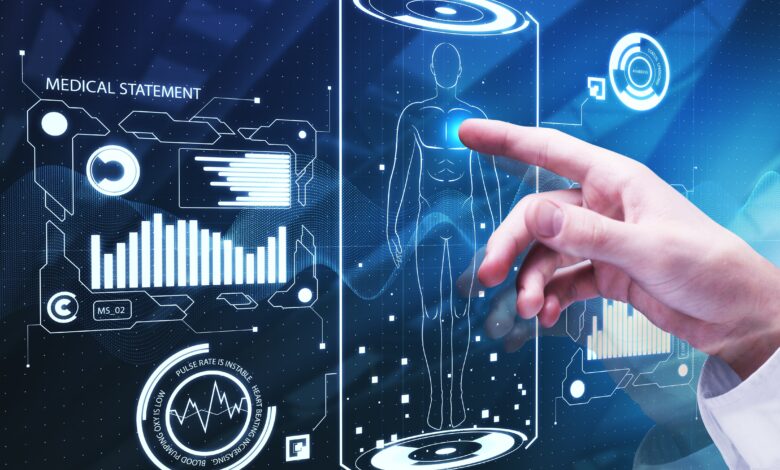 The global medical technology (MedTech) industry is vast and expanding. It is believed to be worth well over $500bn already, representing an awe-inspiring 63% growth in value since 2010.
Massive amounts of research and development are going into creating devices and programs to support disease diagnosis, monitoring, and treatment and to aid rehabilitation and recovery from injuries and illnesses.
There have been invaluable additions to the way medical prosthetics are engineered, and there are now tiny devices that can be inserted into the human body to regulate crucial biological functions, such as keeping hearts pumping or controlling insulin levels.
Medical science is truly remarkable.
However, there is another vital area of medicine that technology is transforming that doesn't always get the same publicity. MedTech, or more specifically, health information technology (HIT), has revolutionized the way in which data can be collected, stored, and used.
It could result in even greater discoveries in the future.
How HIT is a game-changer
The advantages of having ever-improving HIT in healthcare settings are numerous and stretch from better individual patient care to opportunities to study medical conditions with far greater accuracy and depth.
Looking first at the way technology benefits patients, individuals now have highly shareable and 'portable' medical records. Having your medical history and treatment regimens in digital form means that wherever you go in the world, you have the option to give healthcare professionals vital information about you.
It is impossible to know how many lives have been saved by the fact that physicians and nurses can now collaborate with colleagues and specialists remotely using patient data files.
Also, the devices and software programs used to gather and analyze individual patient information are designed for accuracy and accountability. There are far fewer opportunities for omissions or such things as lost test results now that patient records are digitalized.
Another way HIT has improved patient care is the way it has changed how nurses take bedside readings of your health status during a hospital stay. Your medical team can get regular and crucial data, even if you are too ill to speak or unable to cooperate. More on this sort of technology is discussed later in this article.
All the vast amounts of data that HIT now gathers don't just help individual patients, though. It also has global value. Healthcare data can be used to measure and map a multitude of things.
Illustrations of this include the importance of medical data in evaluating which medications or therapies have the best results and any factors that influence the efficacy of new treatment regimes. Data can also be used to decide if a drug's side effects remain within the boundaries first chartered during its initial journey through clinical trials to approval.
Another example of how important medical data analysis is the way it is utilized to assess the pathway of infectious diseases. It was proven in many ways during the COVID-19 pandemic. Medical scientists used data from hospitals and social care facilities to make predictions and attempt to contain that horrific global infection.
The in vitro diagnostics (IVD) industry is undoubtedly one of the biggest growth areas of MedTech. It is the technology used to test human samples (such as blood and saliva) to help detect and monitor diseases. It is also used to better study common illnesses with a view to finding more effective cures.
Data from this sort of technology may also one day lead to finding ways to prevent some diseases in the first place.
The daily life of medical professionals
It is not just patient care and global medical trends being supported by an influx of new technological possibilities. There are also many ways that medical technology has changed job roles and responsibilities in health and social care.
Health information technology is enabling professionals in this field to do things quicker, better, and more accurately.
Some of that is clear from the above. Healthcare professionals now have far more options for gathering accurate, up-to-the-minute information on a patient's health status. That can even include using wearable devices to get important medical information from patients going about their usual lives.
For instance, someone with a heart condition can be monitored from afar, with their medical team ready to act quickly when data indicates an urgent need for intervention.
Having health information technology to use has also enabled healthcare professionals to hand over some of the more mundane tasks to their devices and software systems. Note-taking and analysis can be much quicker using specialized software. It has freed nurses to do more interpersonal work with their patients.
Imagine, too, how much easier it is now for a medical team to research and collaborate with colleagues to help get a clear diagnosis for a patient or to decide the most appropriate treatment protocol.
The foundation is the right skills
As it can lead to far greater efficiency and effectiveness, many healthcare providers have been quick to adopt the latest devices, software, and cloud systems to make their business operations much smoother and to improve both patient care and the daily lives of their employees.
As this can involve a considerable cost, healthcare organizations are constantly seeking a strategic path to achieving a good return on investment when purchasing the latest technology for the medical sector.
Developing, introducing, and then properly using HIT also involves ensuring that staff across all departments and job roles can use healthcare technology in the way it was intended to be used.
Optimizing their investment in the latest MedTech involves healthcare providers delivering continuous IT-related training to their personnel. That is true whether they are up-skilling nurses and physicians or the team tasked with handling finance and purchasing, for example.
As the technology used in healthcare is ever-advancing, employers also need to be sure that their personnel are ready and willing to embrace this continuous learning, including staff who attend training courses in the latest tech updates and then put that learning into practice quickly and effectively.
That all starts with healthcare organizations recruiting the right caliber of recruits in the first place. Modern employers in this sector need to find applicants who already have proven competence and demonstrable confidence in using healthcare technology.
So, how do medical staff ensure they have the skills and knowledge to use the latest technology in their everyday roles and responsibilities?
Fortunately, educators in this field were quick to appreciate that they needed to integrate healthcare technology learning within all the respected and appropriate programs for medical personnel. That is true whether medicine is your first or second career choice and whether you are studying in person or using a remote learning opportunity within healthcare.
For instance, the hybrid BSN programs provided by the University of Indianapolis online are flexible and offer accelerated learning opportunities. However, they also focus on key areas of competency, such as therapeutic communication and cultural awareness. It is all done within the context of technology's power to support learning and collaboration.
The most commonly used HIT
There is a great deal of health information technology that is now universally and routinely used. That is true of any type of medical facility, from small rural clinics to globally renown hospitals in major US cities.
So, what sort of technology would you now expect to see used every day at the frontline of patient care in the US? The list is long, but here are just some examples of commonly used methods of improving patient care, the working lives of modern healthcare professionals, and medical data collection.
Technology to evaluate health status
There are four vital signs used throughout medical diagnosis and monitoring. These are the things that medical practitioners use to make a very wide range of evaluations and decisions on a patient's health status.
The four things are patient's body temperature, pulse rate, blood pressure level, and respiration rate.
Even if a patient is unable to speak, these four vital signs can give medical professionals important information. For instance, a high temperature may indicate infection, and a change in pulse rate could show that the individual is suffering from pain or anxiety.
There are now reliable and quick-to-use devices that can take vital sign readings from patients, even when they are comatose or seriously ill. For instance, a body temperature can be taken using a device that goes into a patient's ear or a sensor placed on their skin.
Another illustration would be modern blood pressure equipment that takes accurate readings and provides a digital read out that can be automatically added to the patient's records.
Testing and diagnosis equipment
At one time, a patient who needed a specialist or in-depth test would have to be taken to a different part of the hospital or would have to be referred by smaller healthcare providers to their larger equivalents.
Fortunately, advances in medical technology have resulted in smaller, more moveable machines that can be used to carry out fundamental diagnostic tasks. For instance, portable X-ray machines and bedside equipment are needed to do internal scans.
The same improved level of efficiency extends to the laboratories within smaller hospitals or specimen testing capabilities in clinics. There are now devices and programs that enable medical professionals to get quick, accurate initial readings on blood, urine, and tissue samples, for example.
It sometimes avoids the need for testing to be done by external specialist facilities. That also makes it possible to get results—and to make decisions—without wait times that could potentially jeopardize a patient's health or skew the outcomes.
Medical devices for recording, storing, and sharing data
Mention has already been made of some of the ways MedTech has automated and streamlined the way patient information is recorded and stored. That includes digital records of vital signs added to data files the instant they are facilitated.
Many healthcare professionals now carry small portable devices that they can use to record a lot more information about their patients. For instance, when chatting with an individual and asking questions about how they feel, they can key in responses in real time. Changes to medication can also be noted instantly and accurately on a tablet of some kind.
Imagine how much quicker it is for healthcare professionals to share that sort of information to enable a task that would improve patient care. For instance, a nurse chatting with a patient discovers they are hungry and ready to eat something. They can message the catering team instantly and request a suitable meal to be prepared.
Or, a physician who spots an anomaly or red flag when talking to a patient can immediately request a consultation with a specialist colleague.
That is all going on while the general data is being gathered to be used for a multitude of more global purposes.
Telemedicine technology
The same incredible ability to consult remotely, as mentioned above, is also significant to the patients themselves, as well as their healthcare team.
A patient wearing a device or even using a smartphone app can communicate important information in real time to help form a diagnosis or monitor some aspect of their health status.
Telemedicine, or eHealth technology, is another substantial growth area. It means people don't always have to travel to see specialists or get their tests carried out. It is increasingly possible to go online and get medical advice from anywhere, at any time. Cameras and sensors can be used for self-examination and scans, which can be used to get medical opinions and help.
Using the latest wearable technology and health monitoring devices also means you don't have to be the one who initiates the remote medical intervention. Your care team could be checking your data and could flag you up when there is an indication that something is wrong.
The future of healthcare information technology
The above examples of the sort of technology used for diagnostics and patient care are just the tip of an ever-growing 'iceberg'.
There are many more exciting developments on the way that will further change the working lives of healthcare professionals and the outcomes for their patients. That includes everything from augmented and virtual reality systems to deliver interactive communication and care to 3D printers that can engineer prosthetics and replacement organs.
There is even a belief that the data being compiled every day and the power of data science and artificial intelligence will one day make many diseases a thing of the past.
Particularly when you have visionaries and investors such as the Bill & Melinda Gates Foundation, which aims to "strengthen global cooperation by bringing together governments, businesses, philanthropies, and communities to save and transform lives around the world."
For more valuable information visit our website.